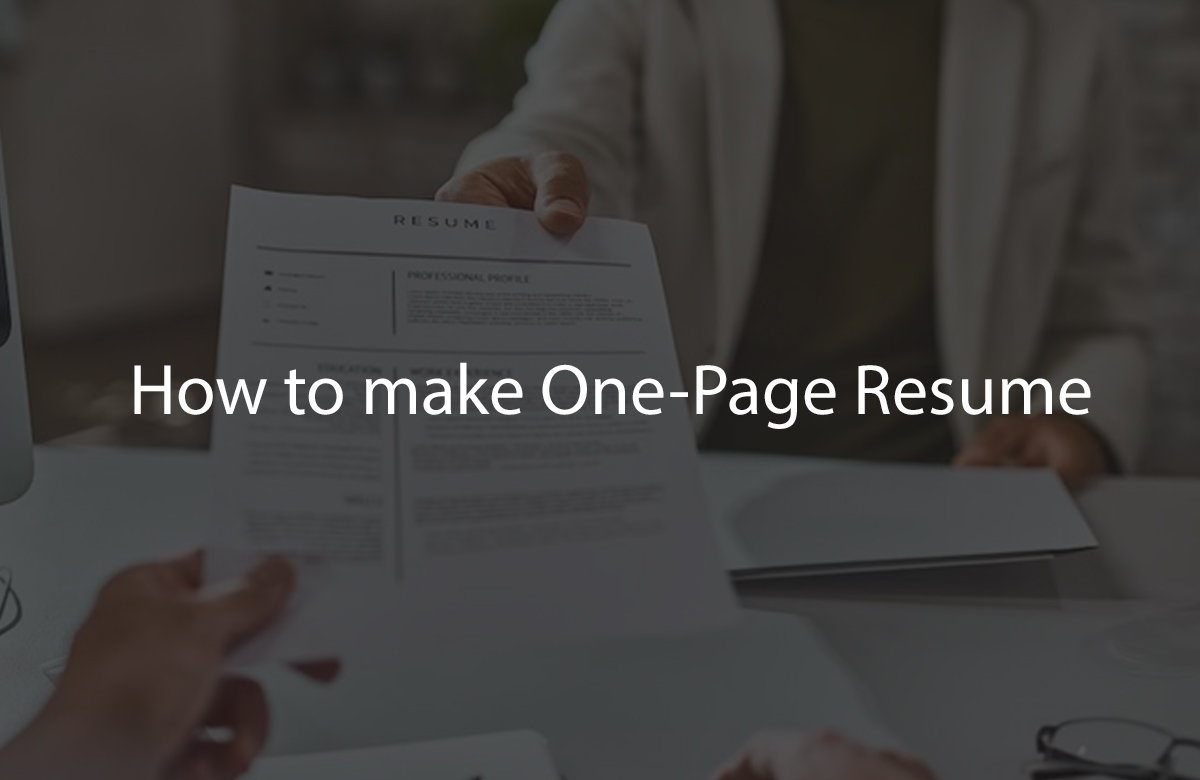 How to make One-Page Resume
Creating a one-page resume requires careful editing and prioritization of your key qualifications, experiences, and skills. Here's a step-by-step guide to help you craft a concise and effective one-page resume:
Choose a Clean and Professional Template:
Start with a clean and well-structured resume template. Many word processing software applications offer pre-designed templates for resumes.
Contact Information:
Include your full name, phone number, email address, and, if applicable, a link to your LinkedIn profile or personal website. These details should be placed at the top of your resume for easy reference.
Objective or Summary (Optional):
If you choose to include an objective or summary, make it concise and tailored to the specific job you're applying for. Highlight your career goals and key qualifications.
Professional Experience:
List your work experiences in reverse chronological order, starting with your most recent job. For each position, include:
Job title and company name.
Dates of employment (month and year).
Key responsibilities and achievements.
Use bullet points to make this information easy to scan.
Achievements and Quantifiable Results:
Whenever possible, quantify your achievements with specific numbers or percentages. This helps employers understand the impact of your work.
Education:
Provide information about your educational background, including:
Degrees earned.
Institutions attended.
Graduation dates.
Majors or areas of study.
Skills:
Highlight relevant technical and soft skills, but be selective. Focus on skills that are most important for the job you're applying for.
Certifications and Training:
List any relevant certifications or training programs you've completed.
Awards and Honors (Optional):
If you have received any awards or honors related to your work or academics, consider including them.
Volunteer Work or Extracurricular Activities (Optional):
If you have relevant volunteer experience or extracurricular activities that demonstrate skills or qualities valued by employers, you can include them.
References (Optional):
Generally, it's not necessary to include references on your resume. Simply state that references are available upon request.
Formatting Tips:
Use a consistent and legible font (e.g., Arial, Calibri, or Times New Roman) and keep font size between 10 and 12 points.
Use bold or italics sparingly to emphasize important information.
Maintain consistent formatting throughout the document, including headings, bullet points, and margins.
Ensure proper spacing and alignment for a clean and professional appearance.
Review your resume for grammar and spelling errors.
Edit and Trim:
Carefully review your resume and edit for brevity. Remove any redundant or less relevant information.
Focus on providing a concise summary of your qualifications and experiences.
Use Keywords:
Tailor your one-page resume to the specific job you're applying for by incorporating relevant keywords and phrases from the job description.
Proofread:
Before finalizing your resume, proofread it carefully to catch any errors or inconsistencies.
Creating a one-page resume requires you to prioritize your most relevant and compelling qualifications. Remember that the goal is to provide a snapshot of your skills and experiences that will capture the attention of employers quickly.